Registration Date:
05-05-2014
Rank:
Forum God
Profile Viewed:
5985
Threads:
34 (0.03 per day)
Posts:
1053 (0.78 per day)
Last Post:

Thread:

An Archive of Our Own (AO3) (5388)


Last Thread Poster:

msannomalley


Board:

The Writers Block (704)


Post Topic:

Last Visit:
02-01-2018, at 22:20
Events:
Show Events

---

ICQ Number:
No declaration
AIM Screenname:
No declaration
YIM Screenname:
No declaration
MSN Screenname:
No declaration
eMail:
No declaration
Homepage:
http://msannomalley.tumblr.com/

---

Gender:
Female
birthday:
23.01.1970
Style:
Condor

---

Location:
Sioux Falls, South Dakota
Interests:
Art, reading, knitting, making things, American football
Occupation:
Student
Away Message:
No declaration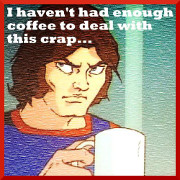 Psychology major @SDState , Packers fan, MSTie, nerd girl, bookworm, outdoorsy, crafty, artsy and non-mincer of words. I live in South Dakota. And yes, when my husband and I are in the vicinity of Mount Rushmore, we crack Lava Jesus jokes.